FREE SHIPPING. FREE RETURNS. FREE EXCHANGES.
Product description
American made prescription lenses

Single vision prescription lenses come standard with polycarbonate lenses and anti-reflective coatings.
Handcrafted frames
Crafted from a Swiss TR90 thermoplastic.
Metal spring hinges for a more comfortable fit.
Measurements
( Fit)
Prescription lens options
Prescription type
Single Vision
Lenses for either near-sighted or far-sighted prescriptions.
Readers
Lenses magnification with no prescription required.
Progressive
Corrects near, intermediate, and farsighted prescriptions all inside of one lens.
Material options
Polycarbonate
The most durable lenses on the market, up to 10x stronger than standard lenses.
1.67 High Index
Recommended for prescriptions that are +/-4.00 or higher and can be up to 40% thinner than Polycarbonate.
Lens coating options
Anti-reflective coating
Blocks up to 99.5% of unwanted reflective light.
Gaming lenses
Blue light filter with anti-reflective coating.
Polarized sunglasses
Polarized Sunglasses with anti-reflecive coating included.
Transition lenses
Clear lenses when you're inside and sunglass lenses when you're outside.
Shipping & Returns
Returns & Exchanges
If you are not satisfied with your glasses, we offer free returns & exchanges within 30 days after your delivery date.
To process your return or exchange contact us here
Shipping
Shipping from Simi Valley, California - We offer free shipping through USPS First-Class Mail, on orders over $50.
Customer Reviews
Write a Review
Ask a Question
05/28/2021
Edwin F.

United States
I recommend this product
Optics- Great
Love my new pair of glasses. This is my 3rd purchase with you guys. I'm always satisfied with the product!
01/06/2021
Anonymous

United States
I recommend this product
Perfect! Don't Hesitate!
I used to run all over town looking for frames to purchase. Not any more. This is the new, best and hassle-free way to have exactly what you want, delivered to your door. After selecting your frames (you can try them on from your selfie) you upload your script from your optometrist. Remember, there are many frames to choose from, including designer names! If there is an issue they will contact you to inquire. They offer several lens products, but I got the polycarbonate, which includes non-glare, scratch coating at no extra cost. In a few weeks, they are at your door. And if you are a gamer, you must try their blue light bloz offering. I also ordered a pair from another company. Both came in at the same time, but it was obvious that the Glassy pair was superior. I used to go to lenscrafters and paid nearly $400. Last pair was from Walmart ... don't bother. I will be using Glassy for my entire family, and for extra pairs I like for certain outfits. I was truly astonished.
10/01/2020
Anonymous

United States
I recommend this product
Great product!
Love glassy and will continue using them!!
02/24/2020
Antoine B.

United States
01/27/2020
Anonymous

Canada
I recommend this product
Classy Glassy
Great experience with Glassy as always! This is my second pair now. I bought the clear Prod prescriptions and they fit perfectly fresh out of the box. I live in Canada and it took 20 days from order to delivery at my front door which I'm actually pretty impressed with. Thanks again!
01/21/2020
Anonymous

United States
I recommend this product
Glasses
Absolutely love the glasses. Unfortunately they fell off my face and chipped on top of one of the lenses so I can't fix them. Maybe some tougher material would help out. Definitely going to purchase again though cause they fit great and love supporting skater owned. This time I will keep them stable on my face.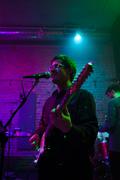 01/15/2020
James D.

United States
I recommend this product
The Price Is Right
I was on the fence about buying any pair of glasses from here due to price, and online purchasing "the unknown", until I realized that there was a try 5 option to get some mock up glasses before initial purchase. That is when I was officially sold on these Prod glasses, and also the Morrison (will be my next purchase). This is my very first pair of Blue Filter Len's, and it has been great the past few weeks for gaming, and working from my computer. The quality of the frame is very well built, doesn't squeak or creak, comfortable, and true to fit from description. *For reference my Pupillary Distance is 63* 10/10 WILL buy again!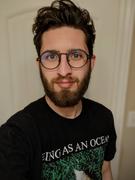 12/29/2019
Anonymous

United States
I recommend this product
Prods are sweet
Honestly perfect
11/21/2019
Anonymous

United States
I recommend this product
Good Experience
For better than my old, and more stylish too!
07/24/2019
Baron G.

United States
I recommend this product
Legit
Really nice light glasses can barely tell I have them on. The clear looks really good with the gold.
I recommend this product
Prods
Best glasses I've ever had.
I recommend this product
I can see clearly !
Honestly these are the best glasses I've ever had. No more eye strain and blurry vision while reading or while on the computer. Sadly the glasses did come with a small scratch on the right frame that I can't seem to buffer out but ya know, its whatever.. prescription glasses are kinda prone to getting scratched I guess. Thanks for the good product.
Great!!!
2nd time I've bought from S Glassy and no disappointment, great frames to choose from & cheaper than what I use to pay.
Amazing as always
These glasses are just too damn stylish. Every pair of glasses I've gotten from glassy have been nothing short of excellence. Love everything you guys do!
Single Vision




Lenses for nearsighted or farsighted prescriptions.




$89.95

Readers




Add a magnification to your lenses for reading. (No prescription necessary)




$89.95

Progressive




Corrects near, intermediate and farsighted prescriptions all inside of one lens.




$289.95
Selections are missing!