FREE SHIPPING. FREE RETURNS. FREE EXCHANGES.
Product description
American made prescription lenses

Single vision prescription lenses come standard with polycarbonate lenses and anti-reflective coatings.
Handcrafted frames
Crafted from cellulose acetate.
Metal spring hinges for a more comfortable fit.
Measurements
(Wide Fit)
Prescription lens options
Prescription type
Single Vision
Lenses for either near-sighted or far-sighted prescriptions.
Readers
Lenses magnification with no prescription required.
Progressive
Corrects near, intermediate, and farsighted prescriptions all inside of one lens.
Material options
Polycarbonate
The most durable lenses on the market, up to 10x stronger than standard lenses.
1.67 High Index
Recommended for prescriptions that are +/-4.00 or higher and can be up to 40% thinner than Polycarbonate.
Lens coating options
Anti-reflective coating
Blocks up to 99.5% of unwanted reflective light.
Gaming lenses
Blue light filter with anti-reflective coating.
Polarized sunglasses
Polarized Sunglasses with anti-reflecive coating included.
Transition lenses
Clear lenses when you're inside and sunglass lenses when you're outside.
Lifetime Warranty
Prescription Eyewear Coverage
The lifetime coverage for prescription glasses will apply to factory defects for the lenses and frame during the duration of the prescription that was written by your optometrist.
Customer Reviews
Write a Review
Ask a Question
04/26/2021
Bryson M.

United States
I recommend this product
Fast shipping great prices all around great experience
100% satisfied returning customer
01/27/2021
Justin

United States
06/25/2020
JOe T.

United States
06/18/2020
Anonymous

United States
I recommend this product
The Swift
Upon inspecting my pair of Swifts I immediately noticed that the frame was not flushed. I put them on then the fit was noticeable. I unscrewed all the screws attaching the gold center piece from the left and right frame in order to fix the frame itself. Now they perfectly fit my face. It has been a week since I've received my Swifts & they have been a big help in reducing eyestrain during those long intense Valorant sessions, & I will most definitely pick up a different pair soon enough. Thank you
01/25/2020
Ben S.

United Kingdom
I recommend this product
Excellent quality.
These glasses are great and fit wonderfully. They also appear to be solidly put together and robust, though this will need time to test fully. Also, the style looks great and suits my face nicely, which in the past has been an issue with buying glasses, getting a style I feel comfortable in (tend to be a big contact lense wearer due to this). I bought them in the new year's sale at 20% off, so including customs fees, the price still came in at less than £100 (UK buyer), so these also represent great value. A warning to other UK buyers, and nothing to do with Glassy themselves, is that UK customs held on to them for quite a while, over a week, so patience with the delivery may be required. But all in all the wait was definitely worth it.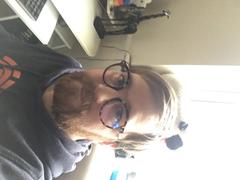 Impressed
Overall I was actually really impressed with the quality of the glasses and speedy shipping. I will definitely be back to buy a pair of your prescription sunglasses sometime soon.
Great Customer Service an amazing Products
Communication was superb from them. I had some troubles at first with my order but everything was fixed up. I would highly recommend buying from them. They are very personal and low key compared to big business.
Favorite glasses ever!!!!
These glasses are amazing!! The delivery is fast and I get all sorts of compliments from them. For them being only 90$ that is so cheap for really good quality glasses. Love it keep doing what you're doing guys!!
Best glasses ever
Glassy are the best glasses I have ever worn. They don't fall or slide when I'm skating and that's awesome. I work in the kitchen all day and they feel great while working. Best glasses ever!! You guys **** it!
Single Vision




Lenses for nearsighted or farsighted prescriptions.




$89.95

Readers




Add a magnification to your lenses for reading. (No prescription necessary)




$89.95

Progressive




Corrects near, intermediate and farsighted prescriptions all inside of one lens.




$289.95
Selections are missing!