Fitzgerald
4th of July Sale
BOGO gift only includes non-rx items.
Product description
American made prescription lenses

Single vision prescription lenses come standard with polycarbonate lenses and anti-reflective coatings.
Handcrafted frames
Crafted from cellulose acetate.
Metal spring hinges for a more comfortable fit.
Measurements
Customer Reviews
04/13/2020
Erik S.
United States
I recommend this product
Prescription glasses
Great experience overall. Loved the at home try on. Great response times from customer service. Excellent product. My only critique was as i was checking out to buy my prescription glasses there was no option to add my prescription. Though you team was extremely fast in sending an email right after i order to email the prescription, purchasing them with the 0+- on the checkout sceen gave me some anxiety. I had to go through your websites faqs to realize that i would email it to yall after. If you had a disclaimer on the checkout screen about how and when you send your prescription that would alleviate a lot of stress.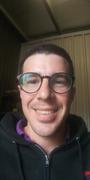 09/23/2019
Casey V.
United States
I recommend this product
They're awesome!
Perfect for everyday use, and great to skate in!
07/26/2019
Anonymous
United States
I recommend this product
Very Happy
I recently tried another try at home company and had a pretty bad experience. This time around I'm glad I chose Glassy.
07/01/2019
Anonymous
Canada
I recommend this product
Prescription Glasses
It was superb, great service, timely delivery, awesome glasses!
I recommend this product
Game Changer
Very Good Apart From The Long Delivery Time Gonna order again soon
I recommend this product
Fitzy!
I practice fake arguments with the glasses because it makes me look confident in whatever I say.
Best Glasses
I never buy glasses cause they're expensive and a pain in the ***. Glassy makes it cheap and easy which gets me all sorts of excited. I love them.
By far the best customer service!
Ended up purchasing a pair of prescription glasses and didn't end up liking them. They were kind enough to send me 5 frames for me to try out and select. Ended up finding the perfect one. Definitely would recommend these guys. Thanks Mike!
Glasses are solid.
Prescription is very accurate. Awesome style. Solid frame. Very, very affordable.