Alamo
Free bogo frames include non-rx sunglasses or gaming glasses.
Ends midnight PST
Product description
American made prescription lenses

Single vision prescription lenses come standard with polycarbonate lenses and anti-reflective coatings.
Handcrafted frames
Crafted from cellulose acetate.
Metal spring hinges for a more comfortable fit.
Measurements
Customer Reviews
04/12/2020
Kevin B.
United States
I recommend this product
Never got my glasses
I've bought from glasses from you guys twice, no problem. This third time, never got them! I understand that the coronavirus may inhibit delivery time but, idk. Still wanna shop with you guys.
02/25/2020
Savion W.
United States
I recommend this product
Purchased a prescription pair for
Purchased a prescription pair for work and they're awesome. Would definitely buy another pair if I ever need a new prescription. And was even able to make the lenses safety regulated.
01/06/2020
James L.
United States
I recommend this product
Satisfied
I purchased these glasses for my girlfriend. She loves them!
10/07/2019
jeff t.
United States
I recommend this product
Gamer glasses
Glasses are great quality and work well very easy to order, try on and shipping was quick.
09/13/2019
NH
Nathan H.
Canada
I recommend this product
Fits great, looks Better!
They were nicely packaged in a box with the glasses case inside. The glasses were wrapped in bubble wrap too! Been qearring them fir only a few days but I love 'em
08/18/2019
Anonymous
United States
I recommend this product
Best glasses ever!
Comfy and stylish!
07/17/2019
Anonymous
United States
I recommend this product
Rad
Great experience, super easy, prescription was perfect! Plus skater owned companies are a must!!
06/28/2019
Anonymous
United States
I recommend this product
Alamo prescription
The frames are exactly what I wanted. So far, they are durable and comfortable to wear. Once I got used to my new prescription I wear them more now instead of contacts all the time. Another great product from Glassy!
I recommend this product
Great product!
Overall experience with Glassy Eyewear was great! I would absolutely reccomend that anyone should get thier eye glasses from Glassy Eyewear. Thier customer service is top notch, they make you feel like you are a valued customer. Thier product is top quality and does not disappoint. I could order a pair of regular perscription eye glasses, a pair of perscription sunglasses AND a pair of perscription gaming glasses here for less than I'd pay for one pair at an Eye Clinic.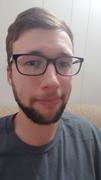 I recommend this product
These glasses are PERFECT!!!
I went to Target to get some glasses through my insurance and I had to get a pair that was the cheapest frames with the cheapest lenses. When I got them they were horrible. They cut my face, they hurt the top of my ears, and the lenses looked like they were from a kids toy. So after watching Mike Mo talk about Glassy on The Nine Club (PLUG), I figured I'd check them out. Literally the best decision of my life. These glasses are the most comfortable glasses I have ever worn, and the lenses that Glassy puts in are legit a solid 10/10. And when they say there is no glare and it's smudge proof, they mean in. I've had my glasses for about a month now and these lenses are still crystal clear and feel fresh out of the box. Seriously never going to another big box store for glasses. This company is so sick and I love supporting Mo and Glassy. Do yourself a favor and buy a pair, because they're 1000% worth it!
Alamo Glasses for Avid Skateboarder
I ordered the prescription Alamo glasses as a gift for an avid skateboarder. He loves the glasses and wears them everyday. The order processes was very easy and MikeMo was very helpful in getting me exactly what I needed, right on time.
Alamos
High quality glasses at a very reasonable price. Worth every penny.
Great frames!
I've had these frames for almost a year now and I've been happy with them. My only complaint is the with the lenses. They are not at all glare resistant. I also believe my Rx isn't quite correct but since I mostly wear them to bed I'm ok with it. More than a good deal for the price!
Home Try On
The home try on process was so easy and helpful. Can't wait for this feature to launch.
02/07/2018
Ridge K.
United States
Great!
These are quality frames lenses for a fraction of what you'd pay elsewhere. Also, Glassy has never made me feel like just a sale, they've always treated me like a person. I will always buy from Glassy.