FREE SHIPPING. FREE RETURNS. FREE EXCHANGES.
Product description
American made prescription lenses

Single vision prescription lenses come standard with polycarbonate lenses and anti-reflective coatings.
Handcrafted frames
Crafted from cellulose acetate.
Metal spring hinges for a more comfortable fit.
Measurements
(Medium Fit)
Prescription lens options
Prescription type
Single Vision
Lenses for either near-sighted or far-sighted prescriptions.
Readers
Lenses magnification with no prescription required.
Progressive
Corrects near, intermediate, and farsighted prescriptions all inside of one lens.
Material options
Polycarbonate
The most durable lenses on the market, up to 10x stronger than standard lenses.
1.67 High Index
Recommended for prescriptions that are +/-4.00 or higher and can be up to 40% thinner than Polycarbonate.
Lens coating options
Anti-reflective coating
Blocks up to 99.5% of unwanted reflective light.
Gaming lenses
Blue light filter with anti-reflective coating.
Polarized sunglasses
Polarized Sunglasses with anti-reflecive coating included.
Transition lenses
Clear lenses when you're inside and sunglass lenses when you're outside.
Shipping & Returns
Returns & Exchanges
If you are not satisfied with your glasses, we offer free returns & exchanges within 30 days after your delivery date.
To process your return or exchange contact us here
Shipping
Shipping from Simi Valley, California - We offer free shipping through USPS First-Class Mail, on orders over $50.
Customer Reviews
Write a Review
Ask a Question
I recommend this product
Great fitting and looking glasses.
All your fits have been better than any other glasses be had. Amazing work and the best glasses by far. I'll always be back for more.
09/15/2021
Anonymous

United States
I recommend this product
Great glasses... Glassy never disappoints!
Even though I didn't know my PD, they still got it perfect. Been ordering glasses here for a little bit and never had an issue. Customer service is great. I would say that the wait for the prescription glasses is definitely worth it! Not to mention the cases that come with. Great product, 10/10 would recommend.
07/03/2021
Kwame P.

United States
11/23/2020
Ariel R.

United States
I recommend this product
You guys did it again!!!
Love these glasses so good for work on the computer and grinding on video games
04/15/2020
Justin P.

United States
I recommend this product
Love them!
These look and fit great! I work in front of a screen 40+ hours a week and get awful headaches, these have cut out the aches entirely. Thanks again!
02/25/2020
Luke S.

United States
11/19/2019
Eduardo L.

United States
I recommend this product
Really nice glasses.
The glasses are really well done and super light.
06/13/2019
Gabriel G.

United States
I recommend this product
Good fit
Good fit. Took a littlw bit to getvused to my new prescription but they look great and im happy with my purchase. It does not help me much with my relationships but they look great and fit great. Im *****. Buy these glasses. Support local businesses. Try it out. 4 strokes is all you need.
I recommend this product
My Favorite Glasses
Everything about this brand is incredible. Great quality. Great service. Great options. These glasses in particular are perfect. They were exactly what was pictured and I upgraded to the blue light blocking pair which has been really nice for my eyes. I highly recommend. No reason to be hesitant when buying glasses from glassy.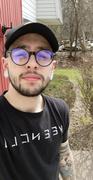 I recommend this product
Olsen
Love these glasses!
Purchase
Purchasing glasses thru Glassy was a breeze.. and don't worry about having your pupuilary distance from your prescription they got you covered..
Olsen
Really good, miko mo, gave a great service!
A bit Krooked
These glasses arrived a bit off center.
03/06/2018
Christopher H.
Great Price and Quality
The prescription works really well for me. The glasses are clean and durable. Happy with the customer service I got and relatively fast delivery. No complaints!
My experience with Glassy was
My experience with Glassy was great. They inquired about some missing info on my prescription within the hour and I received my glasses so quickly.
Single Vision




Lenses for nearsighted or farsighted prescriptions.




$89.95

Readers




Add a magnification to your lenses for reading. (No prescription necessary)




$89.95

Progressive




Corrects near, intermediate and farsighted prescriptions all inside of one lens.




$289.95
Selections are missing!