Customer Reviews
05/26/2020
Anonymous
United States
I recommend this product
Perfect!
Bought the Timtim shades about a year ago and loved the design and they fit my face perfectly. So, when it was time for some new prescription glasses I knew these would be great!
05/12/2020
Mike F.
United States
I recommend this product
Awesome daytime work glasses
I wear contacts, but I love wearing these when I'm working to reduce my eyestrain. I work a lot on multiple computer monitors and these help my eyes a lot! They look and feel just as great as the sunglasses (which I have 3 pairs of).
05/09/2020
Raul H.
United States
12/09/2019
Brandon O.
United States
I recommend this product
Love the glasses
The customer service was great and I love my glasses!
I recommend this product
Awesome set of frames!
Super durable frames and super solid feeling! Prescription is beyond clear and amazing. Frames are very stylish, the nose bridge piece is a little bigger than i expected but I've actually gotten a few good compliments about that specifically so I feel like it'll grow on me! All in all super great!
09/29/2019
Leticia L.
United States
I recommend this product
Glassy is killing it
Got my order quick and hyped on how good the glasses are
06/19/2019
Anonymous
United States
I recommend this product
Awesome !!
It's been great the blue light blocker is a huge difference! Eye strain is almost non existent! Will definitely look into a second pair!
I recommend this product
Great glasses for anyone - especially skaters!
I love how these glasses are comfortable and fit really well on my face where they won't fall off while I skate, which is something I've had a lot of trouble with in the past. Also, the style of these is very timeless, and a lot of people have given me a lot of compliments on them.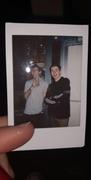 I recommend this product
Great purchase
The frames are amazing. The fit is great. It is always a little scary to order RX glasses online for fear of incorrect lenses and what not, but this is the 3rd pair of RX glasses I have order from Glassy and each time I have been impressed by the quality and accuracy. Overall great product great experience.
I recommend this product
Great, can't say nothing negative
Great, can't say nothing negative about them.
Sweet Glasses
I've received huge compliments on my TimTim's (clear). I'm 100% satisfied.
I love my Timtim Premiums!
This was my first time buying from Glassy, and I have to say, I'm super impressed. The process of purchasing the glasses was fast, easy, and the customer service was awesome. I got the all clear timtim premium glasses (prescription ones) and every time I wear them I get a lot of compliments from my peers. Overall, I am beyond happy with my purchase! Such a great product at such an affordable process. No brainer!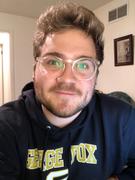 Great Glasses
I took a chance by not being able to try on at home or in a store. Also, there were almost no photos of regular joe's wearing these glasses. I based my purchase mostly off the measurements of my current glasses. I couldn't be happier with my purchase. The glasses look and feel great. I would buy again.
Tim Tim prescription sunhaters
I love them. Although the nose piece was a little longer than what i was expecting the glasses seem to do the job. Mike Mo himself emailed me when I first got them and I loved that. He's so hands on with his company and i'm stoked to have bought from a skater. keep doing you guys!
Coolest round frames
This was my second purchase from Glassy Sunhaters in less than two weeks. After being impressed with the quality of my first glassy frames (Paul premium plus) I jumped back on the site and ordered the TimTim premiums. I had been looking for cool round frames for a while and these have been perfect. Super comfortable and sturdy!