Product description
Blue light filter + anti-reflective coating
Block harmful artificial blue light (HEV) from digital screens such as phones, TV screens, computers, laptops, tablets and LED lights. Perfect for streaming platforms and Zoom meetings.
Blue light filter
Anti-reflective coating
Glare reduction technology
100% UV protected
Benefits of gaming glasses
Reduce eyestrain and fatigue
Reduce headaches
Help regulate sleep cycle
Visual comfort
Handcrafted frames
Crafted from cellulose acetate.
Metal spring hinges for a more comfortable fit.
Measurements
(Medium Fit)
Premium VS Plus
Lens Coating
Frontside
anti-reflective coating
Lens Coating
Frontside and backside
anti-reflective coating
Lens material
Polycarbonate
Lens material
CR39 (Extra clarity)
Shipping & Returns
Returns & Exchanges
If you are not satisfied with your glasses, we offer free returns & exchanges within 30 days after your delivery date.
To process your return or exchange contact us here
Shipping
Shipping from Simi Valley, California - We offer free shipping through USPS First-Class Mail, on orders over $50.
Customer Reviews
Write a Review
Ask a Question
I recommend this product
These glasses have been great for my son!!!
07/14/2021
Anonymous

United States
I recommend this product
Over all great
Came very quickly and fits just fine
05/10/2021
Anonymous

Canada
I recommend this product
Game changer
No more headaches. These make long days on the computer and studying from home a breeze. They look good too!
04/15/2021
Anonymous

United States
12/22/2020
Anonymous

United States
I recommend this product
Cant go without them!
WAIT!! ACTUALLY READ THIS! I don't wear glasses to begin with, lets clear that up first, and secondly I would like to point out that im a HUGE gamer. I love gaming when I get the chance and i am pretty close to the screen so overtime yes eye damage should be expected. I used to get headaches from staring at my screen for more than 2 hours and over longer periods of time my 'appetite' for gaming would drop. But now I can't stop using the glasses! Whenever i'm about to game I put my glasses on and i don't get those weird headaches or loss of 'appetite' for gaming. They are comfortable to wear, makes me feel good about protecting my eyes, and I am glad I got recommended this product!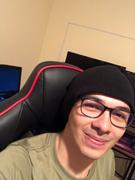 10/23/2020
Jan D.

Czech Republic
09/04/2020
Jeremiah G.

United States
Eye relief
The glasses serve their purpose very well and have kept my eye strain and headaches at bay. They unfortunately hurt the bridge of my nose some if I don't wear them pushed close to my eyes.
08/05/2020
Jimmy L.

United States
07/20/2020
Anonymous

Canada
Galena Plus
Very good Product.
07/16/2020
Anonymous

United States
GALENA PLUS
Great ,I use them daily for my zoom classes
10/30/2019
Jaron M.

United States
Excellent Product/Service
Very good glasses, helped immensely when gaming or working on homework for long hours.
10/18/2019
Anonymous

United States
10/17/2019
Kyle W.

United States
Takes getting use to
I didn't order a prescription pair, but there is a magnification in the lense. It has taken me time to get use to and at first it hurt my eyes. However, now I'm either use to it or it just doesn't bother me anymore. I use them only when I'm playing and when I'm waiting in a game lobby I take them off so that my eyes can rest. It's an interesting trade off. I feel like they help, but I can't constantly wear them.
10/15/2019
Anonymous

United States
Gaming Glasses for desk job
Used at work. Case is great to store at my desk.
Single Vision




Lenses for nearsighted or farsighted prescriptions.




$94.95

Readers




Add a magnification to your lenses for reading. (No prescription necessary)




$94.95

Progressive




Corrects near, intermediate and farsighted prescriptions all inside of one lens.




$294.95
Selections are missing!